We found a solution. Numerous studies have demonstrated the importance of robust and ongoing brand awareness in influencing consumer behavior toward inbox. A corporation gains more authority in its clients' eyes as it closely adheres to its brand and market niche.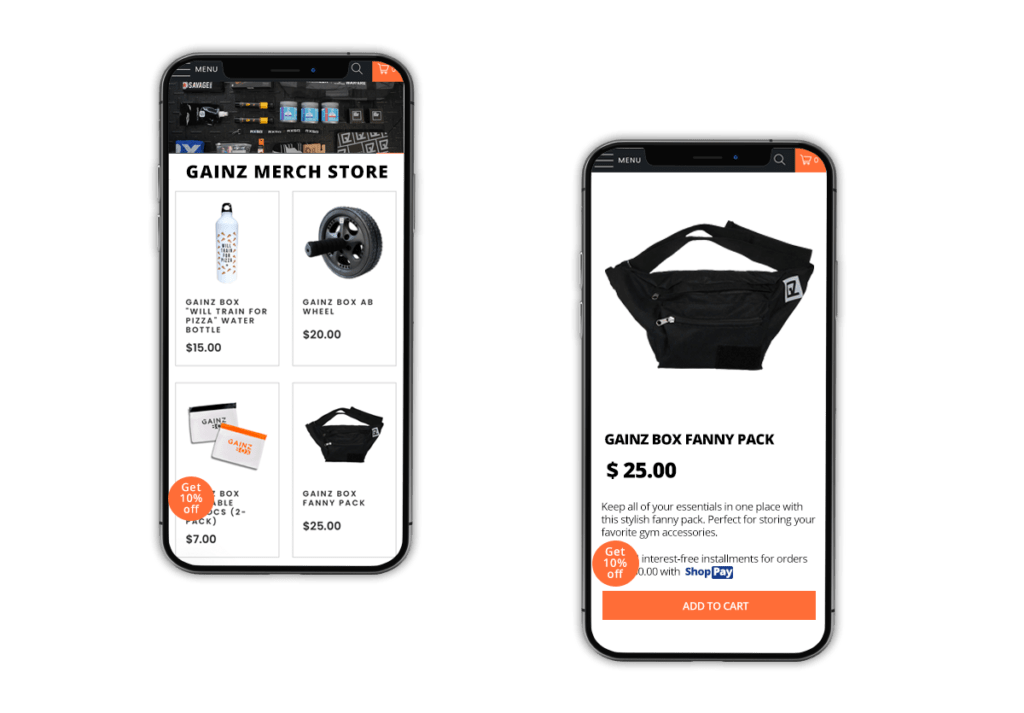 Recharge of subscription product
Gents into Crossfit, it is a terrific service for anyone truly interested in weight lifting. Gainz Box bills itself as a premium subscription box for your CrossFit needs. Gainz Box sends you a unique assortment of products every month, including attire for working out, supplements, tools, and other items. You may also gain points by evaluating products and boxes on Gainz Box. You can use these accrued points to get free gear.
Automate your systems
Nowadays, efficient inventory management systems go beyond just keeping track of the goods on hand. Additionally, they provide helpful automation that helps speed up corporate procedures.Best Shopify developers and set up excellent inventory management software for Gainz box site. It alerts users when there are low stock levels and immediately places new orders from the supplier.
Automated processes save time and money.
It is critical to follow users' actions on your website. Marketing automation sends pre-written emails to specific contacts,which Gainz box does.Gainzbox will now concentrate on other business duties without spending your entire day sending emails because the automation program manages the time and sending. With Shopify automation, the company has  set up the workflow using pre-built templates.
Custom theme work
Your store may appear off-brand if you use the wrong Shopify theme. A bespoke Shopify theme nicely complements the design and feel of your brand. The Gainz box site strengthens the relationship with the target market or clients. They have a  personalized website design with Shopify that will make the  store more appealing, functional, and slick. And this will attract more clients and provide them with a fantastic experience to entice them to return. Though it may be  challenging to deliver the best experience with a template theme,they do it just right.
Create a unique design for your site.
The typical Shopify themes cater to larger audiences and are one size fits all. Gainz Box Is using a custom Shopify store's custom theme. Best-designed Shopify stores make a terrific first impression with a distinctive design. And this is crucial because many people rely on their judgment of a store's reliability on how it looks and feels. The Gainz box has an excellent  layout of its  website which is  the foundation of most results of the business .
Custom product pages
The main advantages of Shopify pages are that they are predesigned, responsive, and have functional pages available immediately through the Shopify admin. Building and customizing a web page Gainz box can tweak things exactly as they like.Gainz box can use aspects of consumer psychology to make their  products irresistible by creating an excellent Shopify product page.
Customer experience
Customer experience describes how a business interacts with customers during the entire purchasing process. Gainz box has developed innovative strategies to encourage clients to purchase frequently from their Shopify SEO-optimized website. It starts the moment prospective clients make their initial contact with the business.
Customers then visit the Gainz box eCommerce website, where various factors, including visuals, copy, the purchasing process, product search, and page performance, can affect perception. The payment and transaction completion stages will come next if the customer's expectations are satisfied when they visit your website. Additionally, Gainz box has dramatically raised the conversion rate by improving the customer experience.